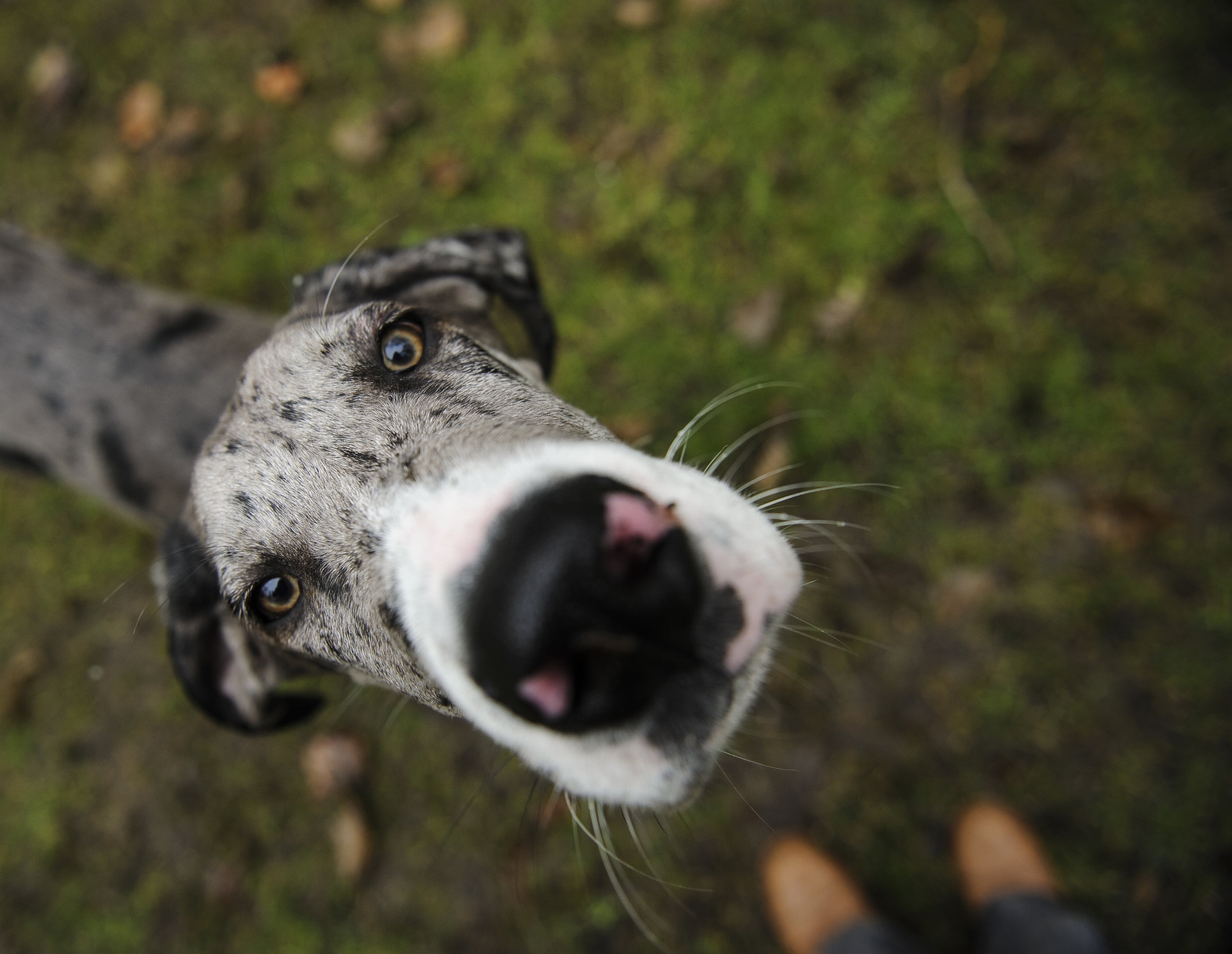 Our organization is made up entirely of volunteers, and we could use your help in a number of ways! Whether through fostering or donating time, goods, or funds, we appreciate our volunteers and owe any success solely to their generosity.
Open Volunteer Positions
Photographer - Wisconsin Area
Duties:
Take photographs of foster Danes for the website when they first arrive in foster homes.

Travel to the foster home unless other arrangements are made

Create short videos of foster dog, if possible, for the website

Use creativity to capture great photos of foster dogs (cuddling, running, playing or what heartwarming shot can be captured) in order to create interest on the website

Attend events when possible to take photographs for UMGDR volunteer website and newsletter.
Requirements:
Excellent photography skills and creativity

Access to internet on a daily basis unless other circumstances prevent this such as vacations, internet outage, etc.

Excellent communication skills
Training Coordinator
Duties:
Answers emails and phone calls from UMGDR foster homes regarding training questions pertaining to rescue dogs. Responses must be within 24 - 48 hours of receipt.

Will establish own UMGDR Gmail account for all rescue correspondence

Occasionally may meet some of the fosters and Danes at agreed upon location for hands-on training

Follow up phone calls with foster homes to check on status and/or provide further guidance with foster Dane

Inform director of intake and foster homes of status of any training involving a foster Dane

Attend events/UMGDR picnic when available to put on training sessions and classes for Danes

If interested, contribute training tips for UMGDR bi-monthly newsletter or offer suggestions for articles for the newsletter.
Requirements:
Professional dog training experience including working with behavioral issues

Internet and phone access on a daily basis

Available to check email at least once per day unless other circumstances prevent such as vacations, internet service outage, etc.

Strong verbal and written communication skills

Professional and sensitive to the foster home and the issues they may be experiencing with a foster Dane

Dedication and willingness to work within the organization's set policies and procedures.

Experience with the Great Dane breed strongly preferred
Ongoing Volunteer Opportunities
Open your home to a Dane in need of stability, support, and love. UMGDR does not board any of its Danes, so having a wide network of foster homes is vital. We would love to add you to our network! Read more about fostering.
Our rescue depends on donations to cover operating costs, and many of our donations are given at events. Our Board members and event coordinators always appreciate help from volunteers in successfully running events, whether helping to set up or tear down, talking to the public during events about our work, or bringing along your Dane as a UMGDR ambassador.
Pick up the Dane and transport it to the foster home. We cover all of Minnesota, Wisconsin, Iowa, and North and South Dakota. Our Transport Coordinator will send information to the transport team to set up a Dane Train when needed. Our goal is to have several volunteers for the transport so no one person will be on the road for hours on end.
Each applicant must be visited by a UMGDR at home to pass a home visit before a Dane is placed with them. This entails visiting with the applicant at their home, observing the environment, both physical and emotional, and determining if this is a suitable home for the Dane. Different Danes will have different needs in what constitutes a proper home for them.
Help is always needed to obtain donations to keep the rescue running. These can be in the form of cash, crates, blankets, veterinary supplies, veterinary care, and more. If you know of a person or organization with money, goods, or services to donate, please contact us.
Help us by taking fabulous photos of our foster Danes! These photos are added to Danes' adoption profiles and are instrumental in introducing the dogs to potential adopters.